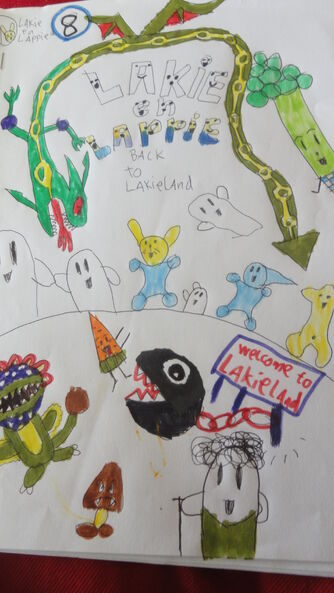 Lakie En Lappie 8 Back to Lakieland is the 8st story in Lakie En Lappie. It will released with all Lakie's friends.
Description
Edit
Finally, Lakieland is open! Lakie meets all her friends, but there is one danger, a great dragon is here to burn all houses of Lakieland! Terrible, but Lakie and Lappie must rescue Lakieland!
Characters
Edit
Lakie, Lappie, Grote Laketje, Lakje, Bosbessie, Paaltje, Mini-Wortelie, Dino Piranha, Goomba, Chompie, Broccolietje, Oma Lakie, Great Dragon.
The Dragon is wrong maked on the cover.
Appereances
Edit